Best California Road Trips to Take in Your Ferrari
California is famous for its beautiful, winding coastal drives. If you've just purchased a new Ferrari, there's nothing like taking it out for a drive on the open road. This blog will give you all the best road trips from Rancho Mirage that you can take your Ferrari on.
Road Trips From Rancho Mirage
Strap in and hit the gas as we explore some of the most beautiful and most exciting road trips from Rancho Mirage, California:
Palos Verdes Peninsula
The drive along Palos Verde Drive will take you along the cliffs, revealing a stunning view of the ocean. The road winds south, showing off the Wayfarers Chapel on the side of the road. While the drive is more of a sprint, it's a 15-mile drive worth making, especially if you're in a convertible. While the drive starting at the beach ends in a residential area, there are some beautiful scenes along the way and it's worth every mile.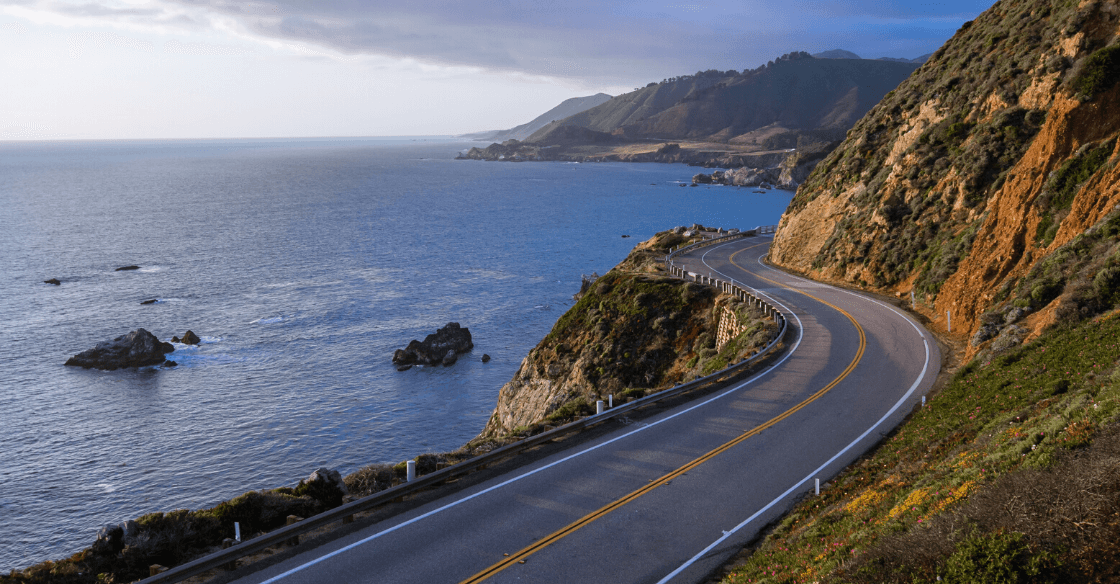 Pacific Coast Highway
The Pacific Coast Highway is an iconic route amongst Southern Californians. It stretches the length of the coastline and beyond. The route was originally established to follow the trail of the California Missions and is now a favorite tourist route. Depending on how long you want to take traveling along the PCH, you can make it a quick two-day trip or spend at least a week to stop and visit some towns and other sights along the way.
Sunrise Scenic Byway
In the spring and summer seasons, this quick 24-mile jaunt through East San Diego County takes drivers through the Laguna Mountain Recreation Area and along the Pacific Crest National Scenic Trail in the Cleveland National Forest.
Rim of the World Scenic Byway
This stretch is a mountainous 107-mile route. You can easily plan on four hours of driving time winding through the wilderness high above the LA Basin to Big Bear Lake. The drive will gain elevation as you drive through the mountains. Many stops along this road include Arrowhead Lake, Heaps Peak Arboretum, and Keller Peak Road.
Angeles Crest Highway
This drive starts on Angeles Crest Highway at Foothill Boulevard in La Canada-Flintridge and heads east, winding through the country of Angeles National Forest above the LA Basin. Ascending past the stunning hillside homes and massive green trees, ridges, and peaks, the route climbs all the way to 7,900 ft at Dawson Saddle. Plan this drive in the spring or summer as it is filled with possible closures in the winter weather. Along this drive, there are several hiking spots and places to stop for lunch.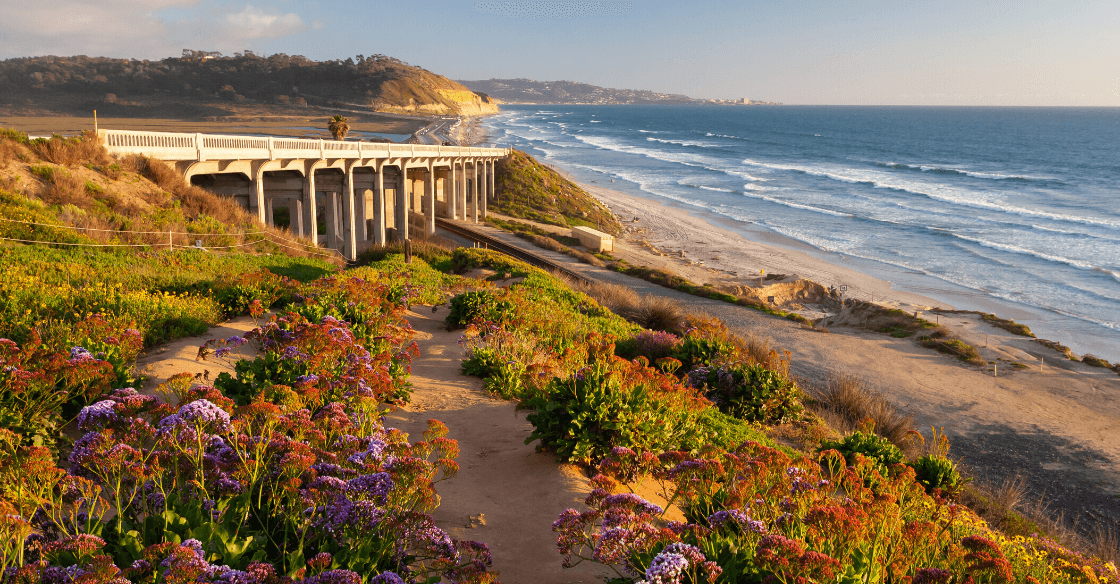 San Diego's 59-Mile Scenic Drive
This 59-mile scenic drive winds its way in and around the city's quaint neighborhoods and showcases unique attractions and natural wonders. Along this drive, there are stunning panoramic views of the coastline, the downtown skyline, Mexico and surrounding mountains. You can follow the route by spotting blue and yellow signs with a white seagull mark every quarter mile.
Feather River Scenic Byway
The route takes you through the Plumas National Forest and covers about 344 miles. It will take several hours if you are able to drive without breaks. Along this route, there are plenty of stunning sights to take in along Highways 20,36, and 49 as well as the Gold Lake Highway. One of the most beautiful parts of the drive will be passing through the Sierra Nevada pass.
Death Valley Byway
This drive is perfect for any season. Its entire route will take about 3.5 hours and covers about 130 miles of Highway 190. You'll experience expansive desert scenery and some extreme temperatures, depending on when you're driving through. Start the drive at Olancha and head west through the Owens Lake bed before climbing up into Death Valley National Park.
Lake Tahoe Circular Route
A simple, circular route around the clear waters of Lake Tahoe, the entire journey is just about 71 miles long and should take around 2 hours. This drive is great from any starting point along the route that takes you through CA highways 28 and 89, in addition to NV Highways 28 and 50.
Redwood Highway Route
Ever wondered what it would be like to drive through a tree? This route starts at the Oregon border and follows south until you get to the coast. It's a 213-mile route along highways 101 and 19. It starts in the Rogue River and Siskiyou Forests, ending in Leggett. Along the drive, there are many places to stop off as you travel if you're interested in some light hiking or exploration.
California has many amazing drives, whether you're looking for a short day trip or a weekend getaway. From the mountains to the Redwoods to the coastline, any drive in your new Ferrari is sure to be a pleasurable one with sights for every driver and passenger.